This series has an even higher current handling capacity than the standard heavy duty HD ranges. By use of through-pin construction and a silver alloy contacting area, current flows of up to 80 amps can be passed. The probe bolts into the probe plate and will easily disassemble for cleaning. Uses for this range include load and functional testing of bus-bars and batteries.
Specification Details
Full travel

9mm Light Spring

6mm Heavy Spring

Working travel

4mm

Spring forces

initial

at wkg travel

Light spring

300g

520g

Heavy spring

1000g

2000g

Current rating DC cont.

50 Amps

short-term max 80 Amps

Temperature range to 100 C
Notes: Bolt-in fitment – Supplied with fixings – Drill hole size 8mm – M5 solder-tag included for tail connection to your braided cable.
For pricing, availability or to place an order, click on a part no. below.
See receptacles and tools at bottom of page.
High current, kelvin test probe
Tip Style
Pan Head Screws M4
Tip Style
Pan Head Screws M5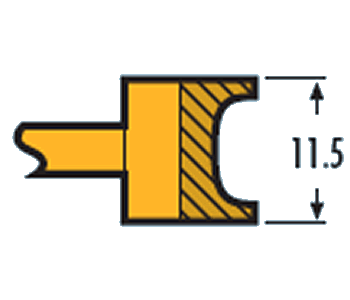 Tip Style
Pan Head Screw M6