A medium reach, robust general purpose test probe for 4mm test centres.
Specification Details
Test Probe Specification
Full travel

.138″ (3.5mm)

Working travel

.110″ (2.8mm)

Spring force at working travel

5.4oz (150g)

Current rating DC (max)

5 Amps

Minimum test centres

.157″ (4.0mm)

Other spring forces available, see under each tip style.
Receptacle Specification
Mounting hole size:
with receptacle 3.0mm, without receptacle 2.65mm
How To Use
Product Selection
Fitment & Usage
After Care
For pricing, availability or to place an order, click on a part no. below.
See receptacles and tools at bottom of page.
Tip Style
Flat Head - 2.3mm Medium spring (150g)
Tip Style
Flat Head - 3.5mm Medium spring (150g)
Tip Style
Serrated Head - 2.3mm Medium spring (150g)
Tip Style
Serrated Head - 3.5mm Medium spring (150g)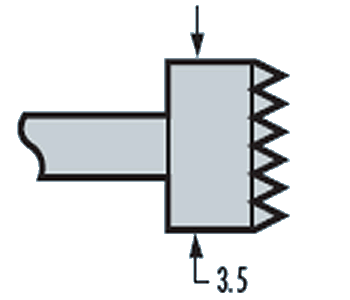 Tip Style
Convex Head - 2.3mm Medium spring (150g)
Receptacle: Solder-Pot, Press Fitment